2.1. What's Ahead, What's Known
To try and keep a little safer, our last physical gallery-space show closed a couple weeks early and due to the age of our current website, we've had to find a more flexible means of hosting material during Covid-19. This section will contain the projects we're working on currently. For the moment, we've been able to partially reproduce the texts that were being show at Transmission as part of What's Ahead, What's Known. Due to the unforseen early closure, we've produced a pdf available for viewing below. The texts are available in frame directly below but there is a link to the pdf of the publication as well which allows for zooming and screen reading. You can magnify the in frame publication by clicking on the page and can further zoom by clicking again.



︎︎︎
CLICK HERE TO ACCESS PDF
︎︎︎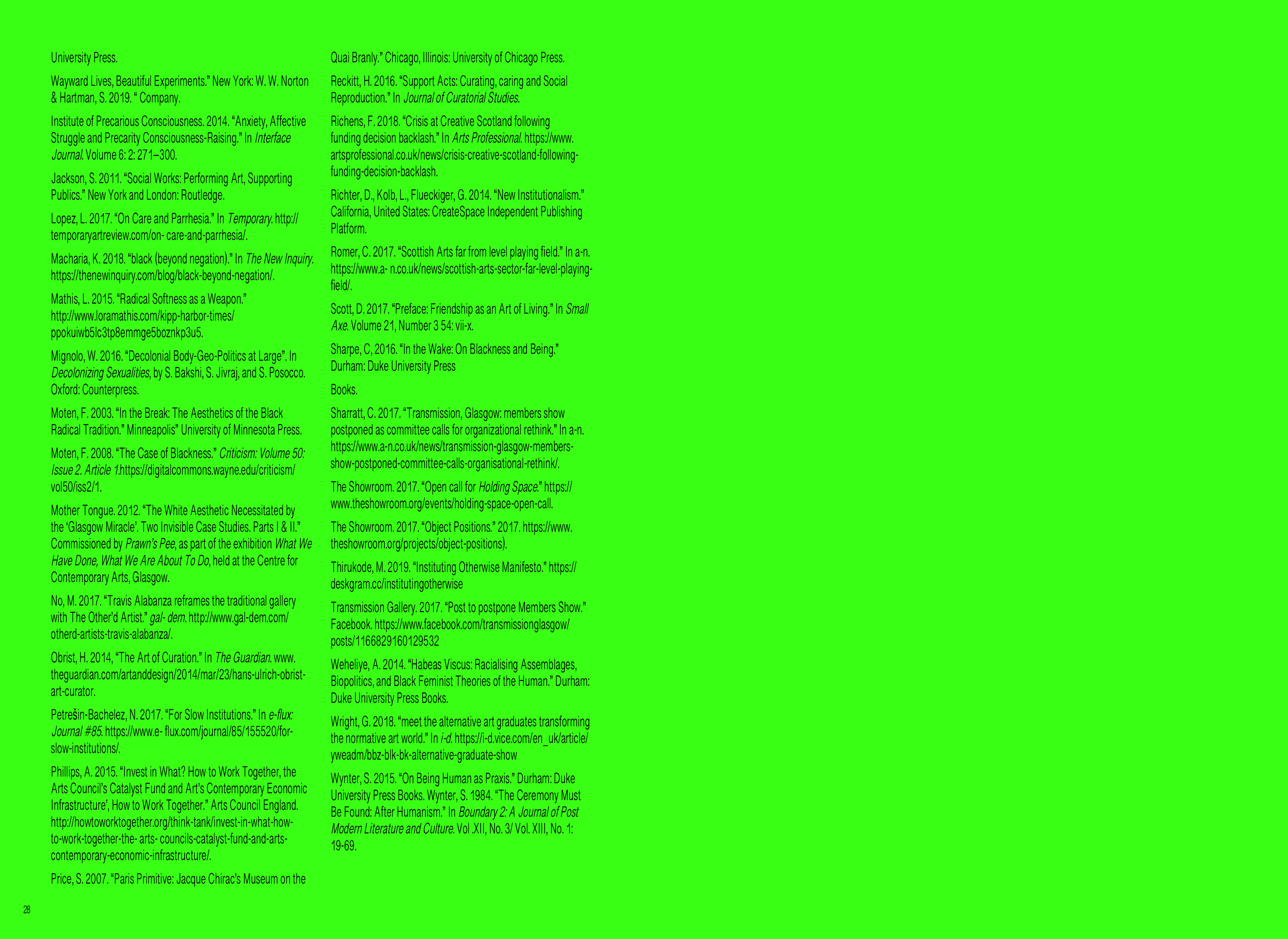 ︎ SYNOPSIS & LIST OF WORKS ︎
What's Ahead, What's Known is Transmission's attempt to make public the research around our ongoing reimagining of what institutional decolonisation can mean. Transmission has worked with a group of five artists who have written various texts responding to the conception of the institution that were physically presented on the walls of the gallery. This has stemmed from an interest in examining how we perform different languages of critique and resistance when engaging in institutional working practice. In addition to this, there was a series of film works by some of the participating artists in the basement of the gallery and a billboard on Trongate with a text by Sulaïman Majali.
Sulaïman Majali, apparitions at noon, 30, 04, 48, Green and pleasant land, walking home after, diaphragm; cyphers in the dream (2019), 8m0s. Fannie Sosa, A White Institution's Guide for Welcoming People of Colour and Their Audiences*; Curatorial Practices; I Need This In My Life (2017), 7m23s. Meenakshi Thirukode, Institutiting Otherwise Manifesto. Alberta Whittle, Biting the Hand That Feeds You; A study in vocal intonation (2018), 8m25s. Rehana Zaman, Policies. Rehana Zaman and The Liverpool Black Women Filmmakers, How does an Invisble Boy Disappear (2018), 25m0s. *Text retracted for online publication at the author's request.