We're figuring out what it means to be a cultural institution at this time and how we can ask that question with recourse to the ethics that have been constructed during Transmission's history. Where are our resources best served? What activities have been cancelled and which of those activities should have been cancelled long ago? How can this be a moment of reflection, redistribution and intentional change? Who is being affected and to what extent? How can we facilitiate a transitition for those of us now lacking in work, sustenance and community? And how can we keep building an idea of a we at this time?

This site will be updated regularly. Please get in touch with the committee via info@transmissiongallery.org if you would like to: participate in this project; add information about resources to the site; or add your group to the index.

1. COMMUNITY
Transmission's physical home, 28 King Street, has historically been used and shared by a number of groups, collectives and peoples whose existence and whose work is vital for so many of us. Whilst we can't share physical space right now as we usually would, there are still ways for us to share resources. Follow the links and read the information below for some more info on the ongoing activities of these groups.
1.1. Autonomous Groups



Transmission has been working with, around, and for a number of autonomous activist and community groups [see: With loving resistance (2019)]. We open up 28 King Street to be utilised for meetings, fundraisers and to facilitate public and private events for these groups. Since the ramifications of Covid-19 has disallowed access to the space, we have worked with these groups to provide some space that can redirect you to more information. Below you can find information on what these groups are up to, how to support them and how to be supported by them.



Index: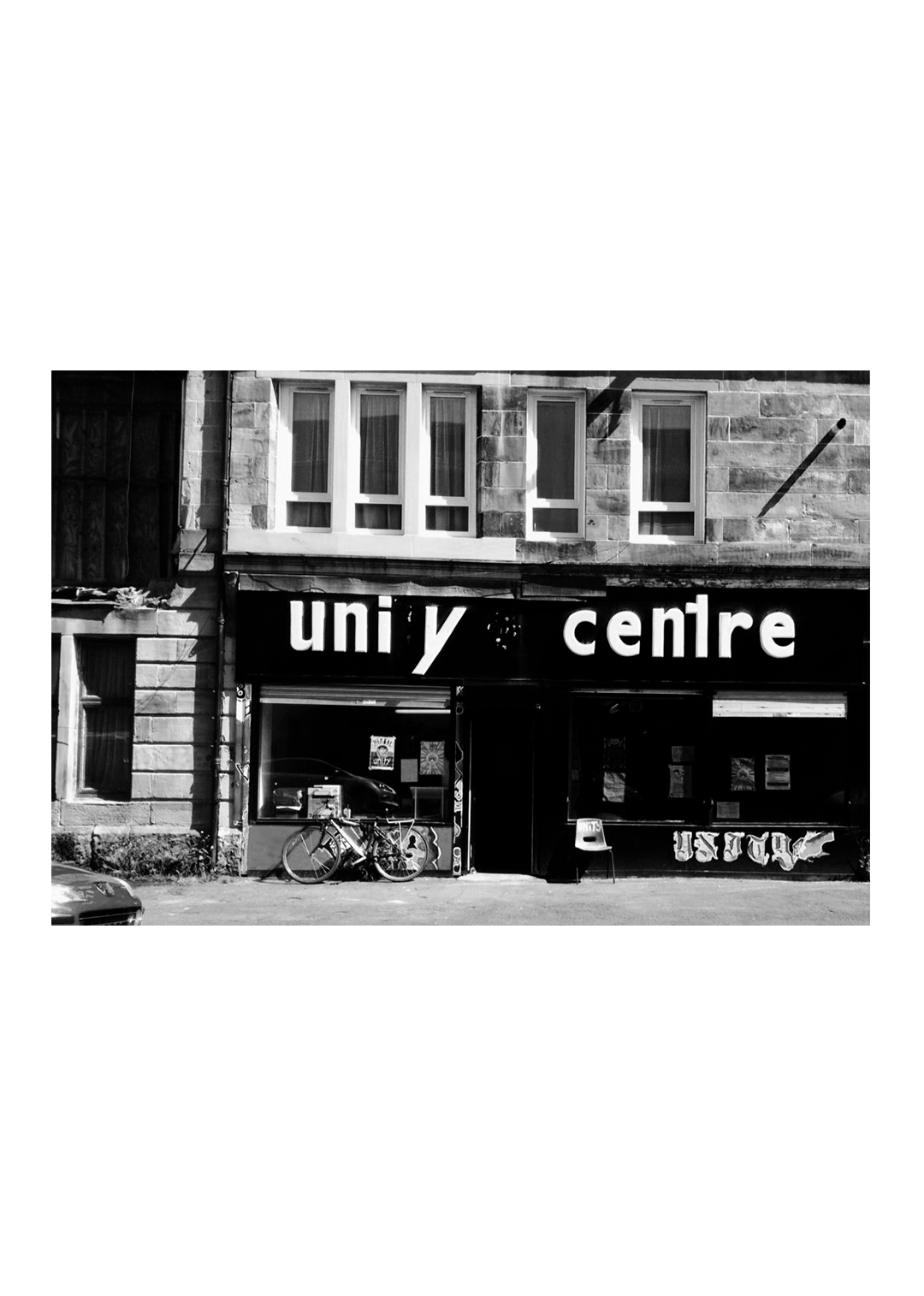 THE UNITY CENTRE


The Unity Centre gives practical support and solidarity to all asylum seekers and other migrants in Scotland. We also support anyone detained in any UK Detention Centres. The Centre is run by the Unity Centre Collective. We are No Borders. We believe everyone should have freedom of movement. Our office is based in Glasgow, less than 100 metres from the Home Office. Anyone who is required to sign at the Home Office reporting centre on Brand Street can stop by our office on their way to sign into our signing book. This means we can act quickly if anyone gets detained by the Home Office. We try to share information and training about the asylum process so that we can all be better informed about the system.The Unity Centre is an organisation than has been run completely by volunteers since it began 11 years ago, with an office open 5 days a week and a 24hr phoneline. We consciously receive no public or government funding, and are entirely dependent on donations from our supporters.
SUPPORT ︎
Volunteer
Donate
Casework
Translators
MIGRANTS ORGANISING FOR RIGHTS AND EMPOWERMENT
[MORE]
A group of migrants and members of the community campaigning for the right to work, study, good housing and to be treated with dignity.
In response to the differing needs of our communities during the outbreak of COVID 19, we (MORE, The Unity Centre and Maslows Commuity Shop-Govan ) are raising funds to support our communities that are currently experiencing the asylum system with a monthly minimum of a £10.00 phone top up and £30.00 shopping foreseeable future.
As most interacting is done virtually during this unprecedent lock-down, we know very well that many of our friends don't have any access to smartphone or mobile contracts and rely solely on pay as you go to stay connected.
SUPPORT ︎
Fundraiser for phone top-ups
UBUNTU WOMEN'S SHELTER
Ubuntu Women Shelter is a Glasgow based charity dedicated to meeting emergency and short term accommodation needs of women who are destitute with no recourse to public funds. We are the first service in the UK run and managed by people with lived experience of migration, asylum and destitution. We are in direct resistance to the hostile environment and have an ethos of no borders and refuse to consent to the current border regime. Our services include hosting women, referrals and advocacy and are designed to meet the unique emotional and psychological needs of women excluded from homelessness and welfare services and housing. We welcome women with failed asylum claim, who have been granted refugee status but destitute and awaiting support and housing. Our services are open to and welcome cis gender, non-binary, queer, trans people and sex workers. We welcome women from all faiths and religious persuasions. We need volunteers, donations and funding in order to acquire an asset to open our first dedicated night shelter and need volunteers to offer hosting to women in their homes.
SUPPORT ︎
Donate
Charity album
1.2. Resource List


This is a compilation of resources and funds made available due to these (Covid-19) times, however it's important to note some of these resources have b e e n existing. We're trying to keep it as relevant as possible however feel free to let us know if an update is needed. Also, if there are any you think should be up here that aren't then let us know and we can try and get it sorted.






Mental health support

Mental Health Foundation

Free resources on looking after your mental health

Mental health support

The Black, African and Asian Therapy Network

UK psychological support informed by intersectionality

Mental health support

blackpsychotherapy

Counselling for Black People, PoC, and Indigenous People

Mental health support

Black Minds Matter

Mental health support for black people in the UK

Crisis support

Glasgow Helps

Directory of community support in Glasgow

Free food provision

Urban Roots

Map of free food parcels and free meals in Glasgow

General aid

Glasgow Mutual Aid

Request form for help from Glasgow Mutual Aid network

£1,000–£15,000

Creative Scotland


Open Fund: Sustaining Creative Development (for individuals)

£1,000–£50,000

Creative Scotland

Open Fund: Sustaining Creative Development (for organisations)

£500–£2,500

Creative Scotland

Bridging Bursary

£250

Visual Arts Scotland

The Emergency Art Workers Fund

£1–£50,000

British Fashion Council

BFC Foundation Fashion fund for the Covid Crisis

£200

Sex Worker Advocacy & Resistance Movement

SWARM Hardship Fund [PAUSED]

£1–£200

Mad Covid

Mad Covid Hardship Fund

£1–£2,500

Arts Council England

Emergency Funding Package

£500–£2500

The Film and TV Charity

COVID-19 Emergency Relief Grant

£500–£2500

Dance Professionals Fund

The Dancer's Hardship Fund










2. PROGRAMME
There has been a mass migration to online platforms due to Covid-19 with many cultural institutions providing digital programmes in lieu of their regular activities. We're aware of the consequent oversaturation of content currently available and are figuring out how to balance the responsibilities of social provision with a committed resistance to overproduction. We'll keep bringing what we have here but with the intention to not produce for production's sake and to keep programming with an ethics of redistribution and decoloniality.
2.1. What's Ahead, What's Known
ARCHIVE

Sulaïman Majali, Fannie Sosa, Meenakshi Thirukode, Alberta Whittle, Rehana Zaman

To try and keep a little safer, our last physical gallery-space show closed a couple weeks early and due to the age of our current website, we've had to find a more flexible means of hosting material during Covid-19. This section will contain the projects we're working on currently. For the moment, we've been able to partially reproduce the texts that were being show at Transmission as part of What's Ahead, What's Known. Due to the unforseen early closure, we've produced a pdf available for viewing below. The texts are available in frame directly below but there is a link to the PDF of the publication as well which allows for zooming and screen reading. You can magnify the in frame publication by clicking on the page and can further zoom by clicking again.


︎︎︎ CLICK HERE TO ACCESS PDF ︎︎︎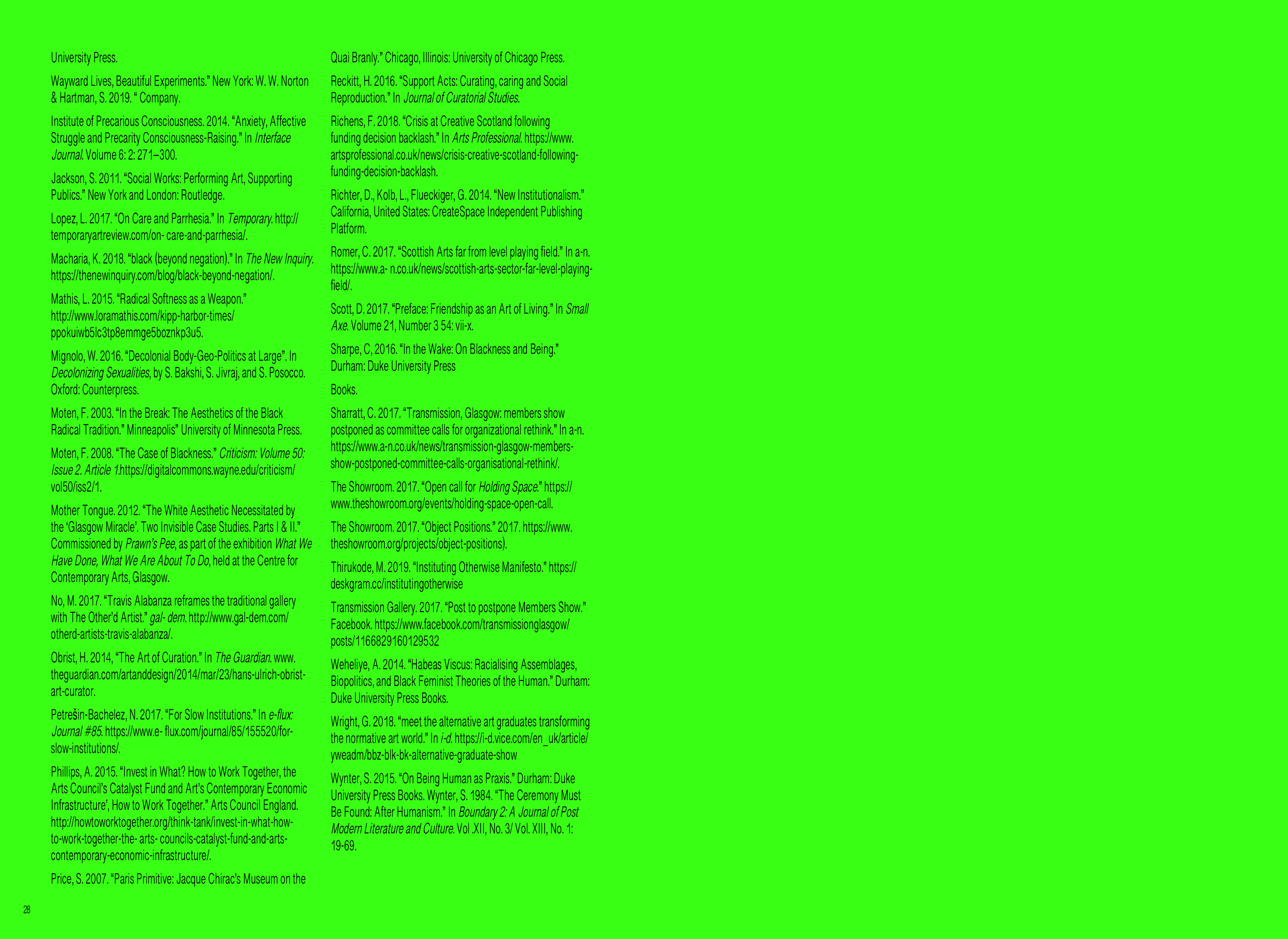 ︎ SYNOPSIS & LIST OF WORKS ︎
What's Ahead, What's Known is Transmission's attempt to make public the research around our ongoing reimagining of what institutional decolonisation can mean. Transmission has worked with a group of five artists who have written various texts responding to the conception of the institution that were physically presented on the walls of the gallery. This has stemmed from an interest in examining how we perform different languages of critique and resistance when engaging in institutional working practice. In addition to this, there was a series of film works by some of the participating artists in the basement of the gallery and a billboard on Trongate with a text by Sulaïman Majali.
Sulaïman Majali, apparitions at noon, 30, 04, 48, Green and pleasant land, walking home after, diaphragm; cyphers in the dream (2019), 8m0s. Fannie Sosa, A White Institution's Guide for Welcoming People of Colour and Their Audiences*; Curatorial Practices; I Need This In My Life (2017), 7m23s. Meenakshi Thirukode, Institutiting Otherwise Manifesto. Alberta Whittle, Biting the Hand That Feeds You; A study in vocal intonation (2018), 8m25s. Rehana Zaman, Policies. Rehana Zaman and The Liverpool Black Women Filmmakers, How does an Invisble Boy Disappear (2018), 25m0s. *Text retracted for online publication at the author's request.

2.2. Free School
ARCHIVE
Ranjana Thapalyal: Contemporary Contexts for Yoruba and Ancient Indian Ideas on Space, Creativity and Self
This course is no longer available. The free school ran from 05 August to 07 October 2020.

Not all is justified by the name of old,
Nor is the new poem never extolled-
(the wise) examine, then select the best from both,
but fools merely parrot other's quotes.
From the Sanskrit play Malavika and Agnimitra: Kalidasa, c 500 CE.

Within an inter-cultural, inter-textual and inter-sectional framework, this course charts a postcolonial, feminist and holistic route to nurturing ideas from two of the world's earliest civilisations. This is done through an introduction to the philosophical foundations of Yoruba culture (originating in Southwest Nigeria, present in the Americas through the African diaspora) and ancient India (originary site of Hindu, Buddhist and Jain thought).

The course will draw from many examples that demonstrate the centrality of creativity and criticality in ancient African and South Asian world views. It will also discuss ways of reading selected objects and texts more fully and contextually; and critique conventional art historical approaches that have historically obscured meaning. In this process, complex concepts of 'self', spirituality and social responsibility will emerge, embedded in the works or discourse around them.

While it is important to remember that Yoruba and ancient Indian cultures are distinct, and are generally studied separately, many interesting resonances between them exist. Also evident are startling echoes of modern and postmodern critical thought. These resonances hold radical and transformative potential for application to contemporary dilemmas and ways of being.
DETAILS
︎ WHAT Eight illustrated lectures and two seminars. This course has been created and will be delivered by Dr. Ranjana Thapalyal.


︎ WHEN Every Wednesday, 18.00–19.30. From Wednesday 5th August to Wednesday 7th October 2020.

︎ COST FREE. Please email us at info@transmissiongallery.org to register.
Ranjana Thapalyal
is an Indian born inter-disciplinary artist and academic, based in Glasgow, Scotland. Her practice includes painting, ceramics and mixed media assemblages. Research has played a significant role in her work, focussed on the nature of materials themselves in the early work, to broader philosophical concerns leading to publications and collaborations. Of particular interest are concepts of 'self' in South Asian and West African traditions, feminist readings of ancient philosophies of the South, cultural politics and the development of decolonising, anti-racist strategies for art pedagogy. From 2010-2018, Thapalyal was programme leader of the Master of Research in Creative Practices at Glasgow School of Art.
2.3. Fi Dem III: Ancestral Interference
ARCHIVE


A newly commissioned film by Zinzi Minott reflecting on the legacy of the Windrush Generation.
This film is no longer available. The online screening ran from 30 October to 25 November 2020.
The film is produced and commissioned by
Berwick Film & Media Arts Festival
,
Spike Island
, Bristol and
Transmission
, Glasgow. In Zinzi's own words, "Fi Dem is a durational work being performed now for three years. Each work is a filmic manifestation of a year lived, a body moved, and moving through a reflection on the legacy of The Windrush Generation." Both
Fi Dem I & II
were screened as part of BFMAF's 2018/19 programme.
Fi Dem III
premiered at Berwick Film & Media Arts Festival and is followed by screenings at Spike Island and Transmission.
Fi Dem
is a durational moving image project and continued investigation into Blackness and Diaspora. On the anniversary of the Empire Windrush docking in the UK on 22nd June 1948, Minott returns to the work. Each iteration is a filmic manifestation of a year lived, a body moved and moving through a reflection on the legacies of The Windrush Generation.
Fi Dem III: Ancestral Interference
, like preceding instalments of Minott's project, invokes the HMT Empire Windrush's mid-century voyage from Jamaica to London—except now we see it placed explicitly alongside emblems of the transatlantic slave trade. Minott is aware of the slave ship's hold, stretching across centuries of Black Caribbean history into the present; an image of Covid-19 statistics overlaid atop a slave ship diagram tells us as much. But the artist also turns our attention to the legacies of Black Caribbean life, sound, resistance and communion within its diaspora.
Fi Dem III: Ancestral Interference
draws from personal and familial archives to chart several Black Caribbean journeys and narratives, some of which have been imaged and returned to throughout the series. For Minott, a trained dancer who was raised within sound system culture,
Fi Dem
's clashing images and sounds are a way of 'editing with the body' to create the feeling of movement central to her training and to the migratory lives of Black Caribbeans.
FI DEM III: ANCESTRAL INTERFERENCE, ZINZI MINOTT, 2020, FILM STILL


PARTNER PROGRAMME

Zinzi Minott's work explores how dance is perceived through the prisms of race, queer culture, gender and class. She is interested in ideas of broken narrative, disturbed lineage, and how the use of the glitch can help us to consider notions of racism one experiences through the span of a Black life. Zinzi has been an artist in residence at an array of esteemed institutions, such as Tate Modern, Tate Britain, Serpentine Gallery; and currently with Somerset House and Once Dance UK Trailblazer. Zinzi is also commissioned under 'CONTINUOUS', a four-year partnership between BALTIC Centre for Contemporary Art (Gateshead) and Siobhan Davies Dance.

Berwick Film & Media Arts Festival is an artistically ambitious organisation for new cinema and artists' moving image. Based in North Northumberland, the Festival supports artists' production in an agile and responsive way, trusting artists to develop work along the lines that interest and suit them best. It is a platform for the presentation, distribution and critical appraisal of artists' work drawing upon dynamic networks of curators, critics and support organisations both across the UK and internationally.

Spike Island is an international centre for the development of contemporary art and design, located close to Bristol's harbourside. It is a place where artists and the public can meet, enabling audiences to engage with artists' research and production. Within the 80,000 square foot building, Spike Island offers visitors a year-round programme of internationally relevant exhibitions, events and activities, as well as providing working space for artists, designers and creative businesses. The link between the production and presentation of art on this scale and under one roof is unique within the UK. Spike Island's programme emphasises the commissioning of new ambitious work and often provides artists their first significant gallery exhibition in the UK. Spike Island Exhibition Services support the development of commissions, including in-house post production facilities for artists' film and video, audio visual technical services and equipment provision for ambitious moving image installations, on site fabrication workshops, resin rooms, skilled art technicians and fabricators.



2.4. Live


Here, you'll be able to live stream events that we're hosting. We'll be using YouTube to host the videos and the will embed them into the site below. News of these events will be posted on our socials. Enjoy!