1. COMMUNITY
Transmission's physical home, 28 King Street, has historically been used and shared by a number of groups, collectives and peoples whose existence and whose work is vital for so many of us. Whilst we can't share physical space right now as we usually would, there are still ways for us to share resources. Follow the links and read the information below for some more info on the ongoing activities of these groups.
1.1. Autonomous Groups



Transmission has been working with, around, and for a number of autonomous activist and community groups [see: With loving resistance (2019)]. We open up 28 King Street to be utilised for meetings, fundraisers and to facilitate public and private events for these groups. Since the ramifications of Covid-19 has disallowed access to the space, we have worked with these groups to provide some space that can redirect you to more information. Below you can find information on what these groups are up to, how to support them and how to be supported by them.



Index: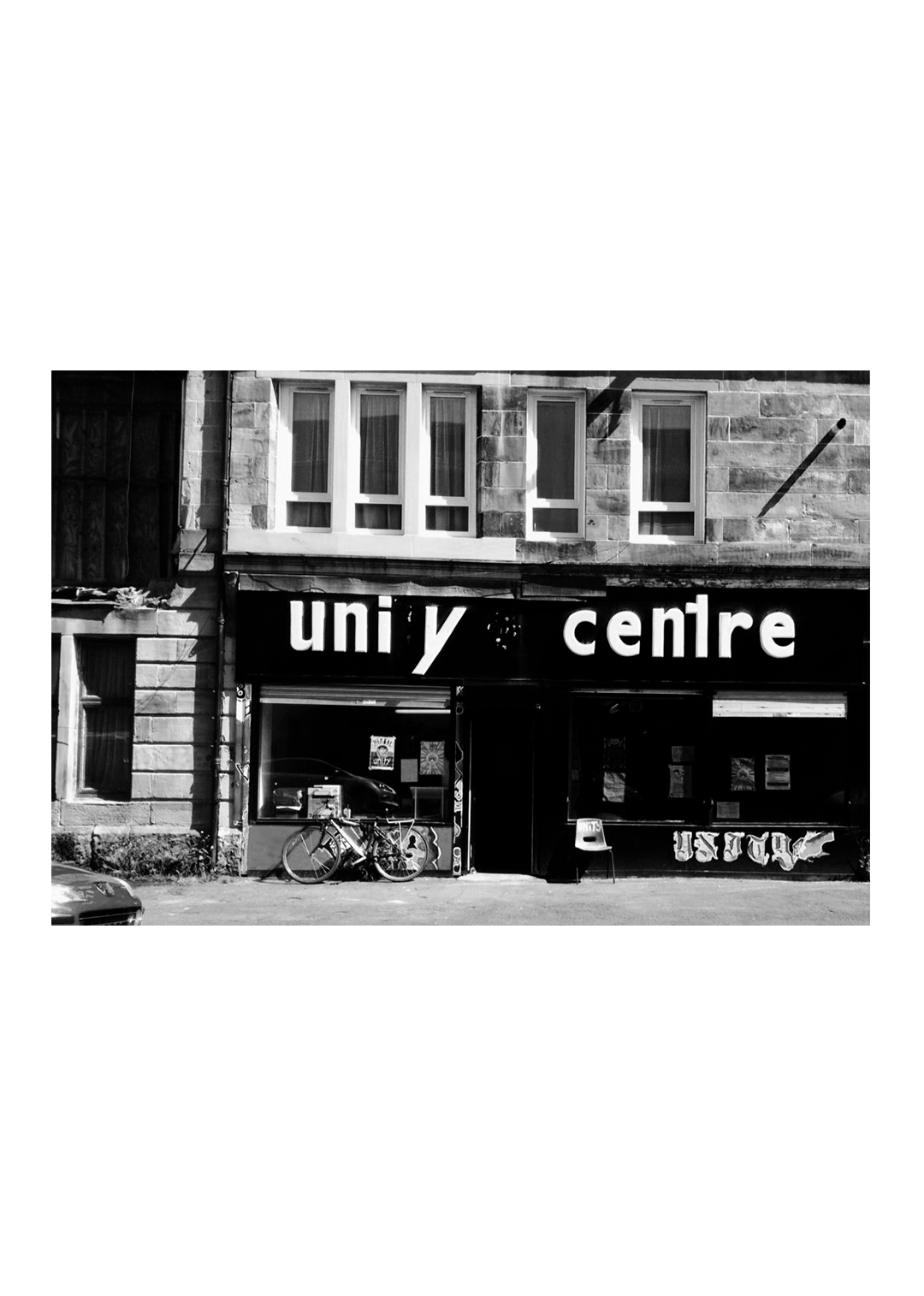 THE UNITY CENTRE


The Unity Centre gives practical support and solidarity to all asylum seekers and other migrants in Scotland. We also support anyone detained in any UK Detention Centres. The Centre is run by the Unity Centre Collective. We are No Borders. We believe everyone should have freedom of movement. Our office is based in Glasgow, less than 100 metres from the Home Office. Anyone who is required to sign at the Home Office reporting centre on Brand Street can stop by our office on their way to sign into our signing book. This means we can act quickly if anyone gets detained by the Home Office. We try to share information and training about the asylum process so that we can all be better informed about the system.The Unity Centre is an organisation than has been run completely by volunteers since it began 11 years ago, with an office open 5 days a week and a 24hr phoneline. We consciously receive no public or government funding, and are entirely dependent on donations from our supporters.
SUPPORT ︎
Volunteer
Donate
Casework
Translators
MIGRANTS ORGANISING FOR RIGHTS AND EMPOWERMENT
[MORE]
A group of migrants and members of the community campaigning for the right to work, study, good housing and to be treated with dignity.
In response to the differing needs of our communities during the outbreak of COVID 19, we (MORE, The Unity Centre and Maslows Commuity Shop-Govan ) are raising funds to support our communities that are currently experiencing the asylum system with a monthly minimum of a £10.00 phone top up and £30.00 shopping foreseeable future.
As most interacting is done virtually during this unprecedent lock-down, we know very well that many of our friends don't have any access to smartphone or mobile contracts and rely solely on pay as you go to stay connected.
SUPPORT ︎
Fundraiser for phone top-ups
UBUNTU WOMEN'S SHELTER
Ubuntu Women Shelter is a Glasgow based charity dedicated to meeting emergency and short term accommodation needs of women who are destitute with no recourse to public funds. We are the first service in the UK run and managed by people with lived experience of migration, asylum and destitution. We are in direct resistance to the hostile environment and have an ethos of no borders and refuse to consent to the current border regime. Our services include hosting women, referrals and advocacy and are designed to meet the unique emotional and psychological needs of women excluded from homelessness and welfare services and housing. We welcome women with failed asylum claim, who have been granted refugee status but destitute and awaiting support and housing. Our services are open to and welcome cis gender, non-binary, queer, trans people and sex workers. We welcome women from all faiths and religious persuasions. We need volunteers, donations and funding in order to acquire an asset to open our first dedicated night shelter and need volunteers to offer hosting to women in their homes.
SUPPORT ︎
Donate
Charity album
1.2. Resource List


This is a compilation of resources and funds made available due to these (Covid-19) times, however it's important to note some of these resources have b e e n existing. We're trying to keep it as relevant as possible however feel free to let us know if an update is needed. Also, if there are any you think should be up here that aren't then let us know and we can try and get it sorted.






Mental health support

Mental Health Foundation

Free resources on looking after your mental health

Mental health support

The Black, African and Asian Therapy Network

UK psychological support informed by intersectionality

Mental health support

blackpsychotherapy

Counselling for Black People, PoC, and Indigenous People

Mental health support

Black Minds Matter

Mental health support for black people in the UK

Crisis support

Glasgow Helps

Directory of community support in Glasgow

Free food provision

Urban Roots

Map of free food parcels and free meals in Glasgow

General aid

Glasgow Mutual Aid

Request form for help from Glasgow Mutual Aid network

£1,000–£15,000

Creative Scotland


Open Fund: Sustaining Creative Development (for individuals)

£1,000–£50,000

Creative Scotland

Open Fund: Sustaining Creative Development (for organisations)

£500–£2,500

Creative Scotland

Bridging Bursary

£250

Visual Arts Scotland

The Emergency Art Workers Fund

£1–£50,000

British Fashion Council

BFC Foundation Fashion fund for the Covid Crisis

£200

Sex Worker Advocacy & Resistance Movement

SWARM Hardship Fund [PAUSED]

£1–£200

Mad Covid

Mad Covid Hardship Fund

£1–£2,500

Arts Council England

Emergency Funding Package

£500–£2500

The Film and TV Charity

COVID-19 Emergency Relief Grant

£500–£2500

Dance Professionals Fund

The Dancer's Hardship Fund